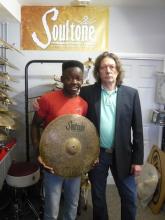 Morgan Simpson UK Young Drummer of the Year 2014 and Soultone Cymbals Artist,
takes delivery of his Latest Soultone Cymbals Set up.
Soultone Artist Morgan Simpson ( 15 Years old) of Letchworth Garden City , Hertfordshire,
England was recently crowned Young Drummer of the Year 2014, after a thrilling Final
Competition, at the Leamington Spa Centre , organised by mikedolbear.com
Morgan has been a finalist before , entering the competition at age 12 and reaching the Finals
as one of the top ten Finalists , then achieving the same top ten Finalist finish in 2012 also.
In the same year Morgan supported Aaron Spears on his UK Clinic Tour, and has followed
up by opening for Thomas Lang this year on his clinic tour at Leeds.
For one so young , Morgan has had a long partnership with Soultone Cymbals , and his Young
Drummer of the Year success was the perfect opportunity for Morgan and Soultone Cymbals
to refresh his cymbal set up.
Morgan is seen here taking delivery of his latest set up as follows;
13" Natural Prototype Hihats ; 12" Gospel Splash; 16" FXO Crash;
17" Natural Prototype Crash; 18" Custom Brilliant RA Prototype Crash;
20" Natural Prototype Ride.
The Official handover of Morgan's latest Soultone set up occurred recently at
Peterborough Soultone Cymbals stockist , Mad about Drums who helped Morgan
with his selection decision . On hand were shop owner Dave Soul and Soultone
Cymbals Distributor Owner and A&R Support Rep. Adrian Darby and Morgans
proud Father and constant support Kevin Simpson, just one part of this Musical Family.
Soultone Cymbals UK are big fans of the Young Drummer of the Year Competition
and mikedolbear.com and have a track record of supporting the development
of gifted young UK drummers.
Adrian Darby said " Soultone's CEO Iki Levy has taken a great interest in Morgan's career
to date and was the driving force in making sure Morgan has these additional Soultones to
assist him as he moves forward in the next stage of his career. I am proud that Soultone are
supporting the long term future of drumming in this country."
Morgan will be appearing at Soultone supplier Footes, Store Street , London ,
"Best of British Day " on Saturday 26th April. He will also be opening up on the
Main Stage at the London Drum Show in November , and appearing on the
Soultone Cymbals Booth over that weekend. Morgan will have a short Clinic
Tour this Year also , more details to follow.
Morgan currently endorses Soultone Cymbals and Liberty Drums.
http://www.youtube.com/user/MorganGSimpsonDrums
http://facebook.com/MorganGSimpsonDrums
http://www.soultonecymbals.com
www.madaboutdrums.co.uk
www.footesmusic.com
www.youngdrummeroftheyear.co.uk