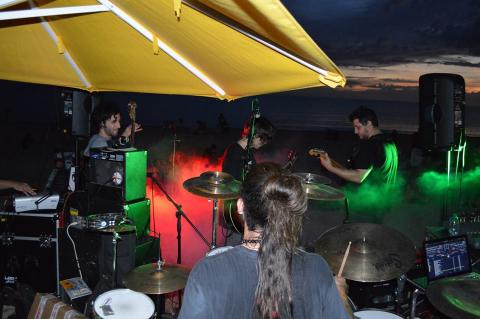 It's been a few weeks since Diego Caetano entered as a drummer to the band "Milo y Los Distintos", as an emergency request, due to their former drummer dissapeared a week before the Uruguayan Summer Tour.
Happily, the band melted very well with his drumming and the tour went awesome.
The band gigged across Aguas Dulces (Rocha), Valizas (Rocha), Punta Del Diablo (Rocha) and Piriapolis (Maldonado)
With the accompainment of Dj Gonchi Passos, the responsable mind of MVD Project, the band offered an integral show with live band and House Music party.
There is still a final show in Piriápolis on 28th of this month, as part of a big show offered by Funky Hippie Bar , sharing stage with Martino, the former leader of the iconical Uruguayan band Hereford
New videos and albums are coming next months on behalf of Diego's proyects Elarcos, Children Of Dragon Maiden and Milo y Los Distintos
Stay tuned and follow Milo on the facebook page
https://www.facebook.com/CamiloLagomarsino
Milo's Videoclip "Apagar El Tiempo"
https://www.youtube.com/watch?v=2939PKv32Uo