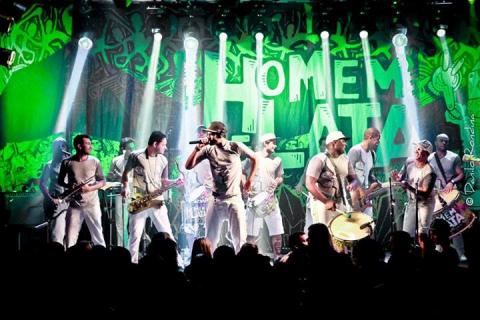 The "Homem de Lata" project ("Tin Man" could be a possible translation into English) emerged in 2010 in the city of Araraquara - São Paulo State - through a group of friends who had a common dream: to form a percussion group where they could incorporate, in different styles and rhythms, beats characteristics of the Samba Schools.
Thus, the artistic/producer Tiago de Camargo joined the renowned musicians from Araraquara region and iniciated the project, which has about 15 drummers, coordinated by the percussionist and drummer Beto Fiqueiredo, with the important participation of Péricles Zuanon, Hugo Gorla, Cássio de Fernando and many others professionals percussion.
Thus, the project aims to bring fun and entertainment as well as provide interaction not only between musicians from different sources and styles of music, but also cause integration of people wherever they pass through the Brazilian Popular Music in the contagious rhythm of Carnival Brazil.
Check out a little bit of the Homem de Lata tour 2013: http://www.youtube.com/watch?v=-3_7QlmDSnM&feature=player_embedded